Preventing Tantrums

Print
By Caitlin Bootsma
Consultant to the VIRTUS® Programs
---
It happened again this morning. "I watching?", my almost-three year old asked me about watching TV at 9 a.m. "No", I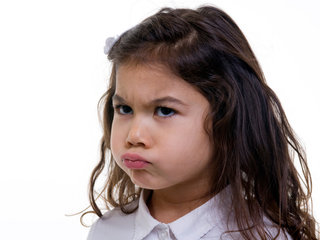 replied, "We don't watch TV in the morning, it's time to play." And then, it started. "YES! Watch my show! It is time for WATCHING, Mama!" A tantrum was beginning to surface; I could see my son's face begin to match the color of his red hair.

If this were last summer, when I was new to the whole tantrums thing, I probably would have continued to just tell him no repeatedly. Or (I must admit) on the rare occasion I may have given in because I just could not take the screaming hysterics one more time that day.
Now, with a little more education on the subject, and a second child reaching the tantrum stage, I've discovered that the right strategy can often prevent tantrums. I say often because, let's admit it, toddlers are sometimes just going to get upset regardless of what we do!

These brain-based techniques for staving off tantrums have proven effective on multiple occasions and are definitely worth a try!
When you begin to notice the signs of a coming tantrum, try:

Getting in their line of sight: Talking eye to eye can be a lot more productive than authoritatively from your full height. In fact, brain studies show that speaking at their level is calming to children and doesn't trigger a "fight or flight response" the way talking down to them can.
Being empathetic: Instead of arguing with them or even problem-solving, try relating to them first by repeating what they are saying and showing that you understand. For example, I could say to my son "So you want to watch your show and you are upset that you can't." This tactic often reduces the anger small children feel because they see that you understand what's bothering them.
Take a deep breath!: Little is solved by responding immediately in anger. If you feel your temperature rising, take a deep breath before answering. Or even, if it is safe to do so, walk away for a minute or two to collect your thoughts and calm down. If you are calm, there is a much greater likelihood that your child will be too.
Give it a try! Each child is different, but studies show that these strategies work. And, in the case of my sons, a lot of tantrums have been avoided because they've understood that while the answer is still "no", I love and empathize with them.

This article is not part of your continuing training. To access your required bulletins you must log in using the form in the upper left-hand corner of the screen. Then go to the TRAINING tab.