God's Gift Of Time

Print
The VIRTUS ® Programs
---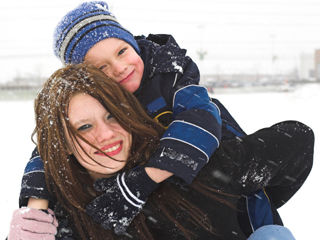 We are fast approaching Daylight Saving Time: that day when I often show up at Mass an hour late or an hour early and when my toddler has a disproportionately hard time adjusting to the time difference. That said, I think most people prefer the spring version of Daylight Saving Time—when we may "lose an hour," but the days are longer, and that means warmer weather is on its way.


With this change in our schedules and the coming of spring, we have another opportunity to consider the routine of our days and whether we spend our time wisely. Faced with constant distractions and a human's nature to procrastinate, it is easy to get off track.


In the Letter to Ephesians, St. Paul gives us a goal for which to strive: "Look carefully then how you walk, not as unwise but as wise, making the best use of the time, because the days are evil. Therefore do not be foolish, but understand what the will of the Lord is" (Ephesians 5:15-17). He helps us to understand that every hour of the day is time in which we can serve the Lord; we can honor Him by using the minutes well.


Does this mean that we are supposed to pray every possible minute of every day? Unless you are a contemplative Brother or Sister, you probably are not. We all can, however, try to punctuate our day with prayer, as a reminder that we are consecrating our time to the Lord. In our house, we say a Hail Mary before starting work for the day, grace before meals (along with prayer intentions), the Guardian Angel prayer when our son goes to sleep, and a prayer from the Liturgy of the Hours when I turn in for the night. Others choose to say a prayer when they first wake up in the morning, every time they turn on their computer, or before important meetings and appointments. These prayers do not have to be time consuming, but when said regularly, they are a way to offer up everything we do to God.


When asked about her daily routine, Mother Teresa explained that after praying upon waking, she and her Sisters "try to pray through our work by doing it with Jesus, for Jesus, to Jesus." What a model for us to follow! Whether our daily work is in an office, serving others directly, or as a stay-at-home parent caring for young children, we each can strive to dedicate our work in this way. After all, ultimately our time is not our own, it is given to us by God so that we can receive His love and glorify Him in everything that we do.


I find that when I truly dedicate my time to the Lord, I suddenly have more of it. That is, it is hard to dedicate endless hours perusing Facebook to God. While moderate use of social media and other leisurely pursuits can be relaxing and even beneficial to our lives, it is easy to slip into mindless and excessive use of them. If I am mindful that each moment is one that I offer to the Lord, my day is spent much more productively and actually with much more pleasure. Instead of flipping through looking for something to watch on Netflix, I find myself playing in the snow with my son. Instead of staying up way too late, I am able to get up early and start the day with prayer.


So, with the days lengthening and the hours saved by more purposefully offering our days to God, what do we do with this extra time? Many of you already dedicate much of your time to serving others, particularly children. Perhaps this additional time can be used to prepare more thoughtful lessons for religious education class or to pray for the teens in your youth group. If you did not previously have time to volunteer, now is the perfect time to ask the Lord again if He desires that you serve Him in this way.


There are so many ways in which we can save time to serve others. Some people are able to make regular commitments as CCD teachers, coaches or youth group leaders. Even if you do not have the ability to make a weekly commitment, there are a number of ways to give to others occasionally through the gift of your time. Perhaps you could volunteer monthly to staff the parish nursery during Mass. Maybe you have a profession or talent that could be shared with parish school students during an enrichment program. Does your parish have a ministry for new parents? Even making a meal to bring to a family who has just had a child can make a world of difference


It is also possible that with this lengthening of days and reassessment of your time, you discover that you are overextending yourself. Just as some are called to give more time to serving others outside their home, it is also possible that God is calling you to give up a volunteer opportunity or two to spend more time with family and others you care for.


Yes, there is a lot to look forward to with the coming of spring. Warmer weather and enjoying a cool drink on the porch on a pleasant evening certainly appeals to me! Even the change in the seasons is a gift from the Lord, Who created the seasons and the passing of time. In response to God's loving gift to us, we each have ways in which we can give back to Him and to others around us. Offering our days and our work as a prayer and serving others by volunteering our time glorifies Him and will bring endless graces to our lives.

This article is not part of your continuing training. To access your required bulletins you must log in using the form in the upper left-hand corner of the screen. Then go to the TRAINING tab.