By Caitlin Bootsma
Consultant to the VIRTUS® Programs
---
Each Sunday at Mass we recite the Creed, affirming the tenets of the Catholic faith. In my experience, it is easy to recite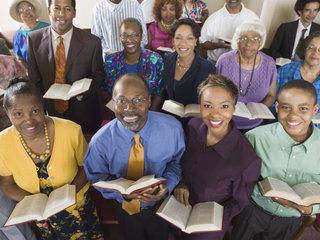 thewords without recognizing their enormity: "I believe in one God, the Father almighty, maker of heaven and earth… For our sake he was crucified… He will come again in glory to judge the living and the deadand his kingdom will have no end" (emphasis mine). Such a statement, by its very nature, demands more of us than just words, it requires a faith that is demonstrated in word and in deed.
Just as the recitation of the Creed can become a mindless repetition of long-ago memorized words, so too can our Catholic faith seem like an accessory, only to pull out on Sunday. Many of us were born into the faith and we—like the children we may teach or minister to—learned many facts about the Bible, Church history and the 10 Commandments. Hopefully, however, we also came to know Jesus Christ. It is not only reason and revelation that tells us that the Creed is true; it is our lived relationship with God. Perhaps you, like me, have experienced God's power in your life and recognize that ultimately, nothing compares to the love He has for us and the place He has waiting for us in heaven.
Choosing to teach children about the faith is an important responsibility that certainly has its challenges. Do they truly understand that God made everything: each person, animal and plant? Do they know that while earthly achievements can be praiseworthy, in the end what really matters is accepting God's grace in our lives here so that we can be with Him forever?
Next month is the Feast of St. Pancras, a young man who gave his life for Christ. We actually don't know much about this young saint, but stories tell us that Pancras was born near the end of the third century and lived with his uncle in Rome. The two of them became Christian in an unfriendly regime under the Emperor Diocletian. In 304 A.D., Pancras was beheaded at the age of 14. He is a martyr.
It is one thing to go to Church because your parents make you go; it is completely another to embrace a faith knowing that you could be killed at any time because of it. Why, you might ask children, would Pancras risk death? How could anything—even a religion—be important enough to lose your life over?
The answer to this very reasonable question that we can communicate to the children in our care lies in the Creed itself, what we profess to be true each and every week. If God is truly the Creator of Heaven and Earth; If He died to save us; if His Kingdom in Heaven will never end, then how could we deny Him? To deny His existence would be like rejecting your mother or father and saying that the earth you stood on wasn't real. More than those things, if we believed in God but said we didn't, we would be valuing our earthly life over Heaven.

No one would say that giving up your life would be easy. And, we pray, most of us should never have to make that decision. But, St. Pancras had to, and he did. He recognized that affirming God was worth pain and death.
The witness of saints like St. Pancras inspires us to affirm God's Presence in every aspect of our life. We all have small opportunities to witness to our faith, even if it's uncomfortable. We can model behaviors in front of children by stopping and saying grace at a restaurant. Or we could say a prayer when an ambulance passes and speak up if Christianity is being ridiculed. When asked, we should always be ready to say that Christ is the One who gives our life meaning.

Christ died for us and whether or not we are asked to die for Him, we are all certainly called to live for Him.